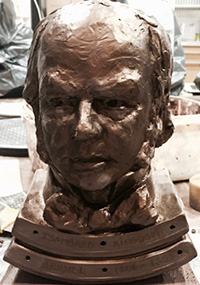 As trophy for the ITA Awards, ITA has chosen to ask a scuptor - Sebastien Langloÿs from Toulouse, France - to make a bust of Isambard Kingdom Brunel. Isambard Kingdom Brunel (9 April 1806 – 15 September 1859) was an English Mechanical and Civil Engineer who is considered "one of the most ingenious and prolific figures in engineering history". With his French father (Marc Brunel), they designed and built the Thames Tunnel in London England, which was the first tunnel to be excavated with a Tunnelling Shield starting in 1825.
Isambard Brunel worked for nearly two years on the excavation of the Thames Tunnel under the river Thames in London, the first sub-aqueous tunnel under a navigable river with the first ever tunnel shield. This accomplishment was even more impressive given the challenging geologic conditions of silty and gravelly soils and constant groundwater inflows.
The Tunnel flooded five times, and in the worst flood, six men drowned and Isambard Brunel barely escaped with his own life. The tunnel finally opened eighteen years later in 1843, but only for pedestrians. The project was funded by Thames Tunnel Company and at the end, was exhausted of money- they could not afford to build the access ramps for originally planned freight.
The East London Railway Company bought the tunnel in 1865 with the intention of excavating new tunnels from the North and South, to link the Thames Tunnel to the national railway network. Four years later, in 1869, trains started to run through the tunnel. Then, for the first time the Thames Tunnel fulfilled its original purpose, providing a transport artery for freight, under and across the River Thames.
Drawing on Brunel's experience with the Thames Tunnel, the Great Western (London-Bristol) Railway, under Brunel's direction, made a series of impressive achievements—soaring viaducts such as the one in Ivy Bridge, specially designed stations, and vast tunnels including the Box Tunnel, which was the longest railway tunnel in the world at that time. Legend has it, that the Box Tunnel may have been deliberately oriented so that the sun shines all the way through it on Brunel's birthday.