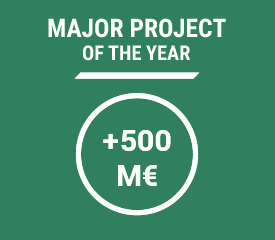 Major Project
of the Year
(Over EUR 500 million)
Nominations for this category of ITA Tunnelling and Underground Space Awards are projects for which the major civil engineering works* have been completed between 1st January 2018 and 1st April 2020.
Any underground project in the above-mentioned budget frame and evaluated in terms of safety record, complexity, advance in technology, project challenges and their solutions, and other special circumstances.
Judges will consider project implementation and features that demonstrate:
Safety performance with records demonstrating Lost Time Injury Frequency Rates
Design and construction innovations developed for and during the project
Implementation of sustainable solutions
Overall approach to management of construction (methods and schedule) to successfully complete the excavation(s) within plan
Development of cost saving solutions
Demonstrated overall Project Owner's satisfaction with completed work, including quality performance
Demonstrate "added value" by all of the above
Public/community relations programs to bring public support to the project and mitigation of construction impacts
Other interesting features, commercial resolution, etc.
Winning projects will demonstrate successful completion of projects that inspire others and promote the use of underground space, further enhancing tunnelling and awareness of underground space benefits.
*Major civil engineering works enclose the time span from finishing all underground excavations until commissioning.