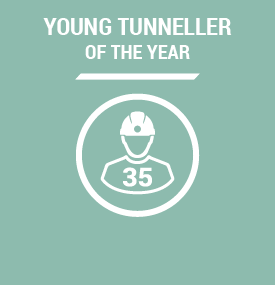 Young Tunneller
of the year
Nominations for this category of ITA Tunnelling and Underground Space Awards are sought to find the individual born at or after 1st January 1986.
Being a young member within the industry, you have already achieved outstanding within the industry. Your superiors are proud and like to support you in this call. Or, another option would be being young and having a bright concept to improve our industry and/or to realize the impossible.
Judges will focus on the personal contribution made by the individual to successfully deliver innovative ideas or initiatives, challenge normal practices or lead major technically complex operations.
Judges will look for evidence of the individual's ability to:
Drive their team, project or business to technical or commercial success
Deliver beyond the Client's expectation
Personal commitment to improving the tunnelling industry
Tangible differences made by the environment in which they operate
Judges will also consider the way the individual has met the specific challenges faced by the industry, their business or their project.
The entry shall be submitted supported by at least two independent references, one of them being from the present or a past superior at work of the Young Tunneller.