In the press
Les ITA Tunnelling Awards couronnent le métro de Doha
Pour la 3ème édition des ITA Tunnelling Awards qui s'est tenue Salle Wagram à Paris lors du congrès de l'AFTES, l'Association Internationale des Tunnels et de l'Espace Souterrain (AITES), a décerné ses prix lors d'une cérémonie qui a réuni 400 personnes.
CEDD and PlanD receive international award for formulating Cavern Master Plan
Hong Kong (HKSAR) - The International Tunnelling and Underground Space Association (ITA) awarded the Civil Engineering and Development Department (CEDD) and the Planning Department (PlanD) for Innovative Underground Space Concept of the Year in the ITA Tunnelling Awards 2017 on November 15 to commend the efforts by the two departments in formulating the Cavern Master Plan (CMP) for Hong Kong.
Doha Metro bags prestigious ITA Award
Qatar Rail has announced that its Doha Metro project is the recipient of the ITA Awards 2017 for 'Major Project of the Year'.
The Doha Metro project was nominated under 'Major Project of the Year - Over €500 Million' category and won the award after being shortlisted alongside the Confederation LRT Line in Canada, Delhi Metro Line 3 in India and Tehran Metro Line 6 in Iran.
The ITA awards are considered the highest award in the world in the field of tunnelling and underground projects, Qatar Rail has said in a press statement.
Jerusalem to get massive underground necropolis as holy site burial space runs out
The project has been internationally recognised and was a finalist at the ITA Tunnelling Awards in Paris on 15 November, in the "innovative underground space concept of the year" category. The ITA recognised the project for recognising "a mounting global, environmental and real estate crisis, while also meeting emotional and religious needs".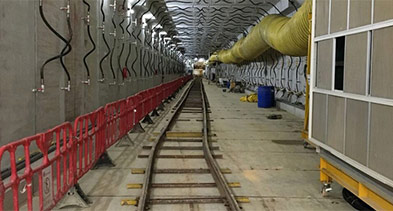 Paris accueille les tunnels les plus innovants au monde
Le monde des tunnels a distingué mercredi les projets les plus marquants de l'année. Le congrès de l'Association française des tunneliers se tient jusque jeudi soir à Paris.
"Un tunnel carré, des infrastructures urbaines délocalisées dans des cavernes, des cimetières souterrains, l'évacuation par tapis roulant de millions de mètres cubes de terres excavées pour un nouveau métro... Trente des travaux souterrains les plus marquants de l'année au niveau mondial se sont a!rontés ce mercredi à Paris pour les prix annuels de l'Association internationale des tunnels et de l'espace souterrain (Aites)."
Lire la suite en téléchargeant le document ci-dessous.
Focus on the TUCSS Conference
Next November 10th, in Singapore, a one day conference will be hosted by the Tunnelling and Underground Construction Society of Singapore (TUCSS) in Marina Bay Sands. On this day, 8 high profile keynote lectures will focus attention on the latest developments in tunnelling and highlight new challenges and innovations. This conference will bring light and attention to the diversity of global tunnelling methods and their implementation in the local Singapore context.