In the press
3 finalists for the Major Project of the Year up to €50M including renovation – ITA Tunnelling Awards 2019
Through innovative insight, the category "Project of The Year up to €50M including renovation" showcases new examples of ongoing rehabilitations of underground infrastructures and new technologies and techniques for maintenance and repair throughout the world.
Record bridge wins an award
Nyligen invigdes megaprojektet Hongkong-Zhuhai-Macao-bron, som förbinder Hongkong och Macau med det kinesiska fastlandet. Nu har den nedsänkta tunneldelen, som ingår i den 55 kilometer långa bron, utsetts till årets tunnel vid ITA Tunnel Awards 2018.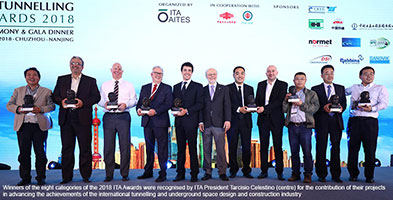 Winners of the 2018 ITA Awards
Following a day-long conference of presentations by all the worthy finalists of the 2018 series of the ITA Awards, the winners were announced at the gala evening banquet. This year, the Awards event of the International Tunnelling and Underground Space Association (ITA) was held in Chuzhou Nanjing city in China and in conjunction with the 20th CTUC, Chinese Tunnels and Underground Works Conference.
Les ITA Tunnelling Awards couronnent le métro de Doha
Pour la 3ème édition des ITA Tunnelling Awards qui s'est tenue Salle Wagram à Paris lors du congrès de l'AFTES, l'Association Internationale des Tunnels et de l'Espace Souterrain (AITES), a décerné ses prix lors d'une cérémonie qui a réuni 400 personnes.
CEDD and PlanD receive international award for formulating Cavern Master Plan
Hong Kong (HKSAR) - The International Tunnelling and Underground Space Association (ITA) awarded the Civil Engineering and Development Department (CEDD) and the Planning Department (PlanD) for Innovative Underground Space Concept of the Year in the ITA Tunnelling Awards 2017 on November 15 to commend the efforts by the two departments in formulating the Cavern Master Plan (CMP) for Hong Kong.
Doha Metro bags prestigious ITA Award
Qatar Rail has announced that its Doha Metro project is the recipient of the ITA Awards 2017 for 'Major Project of the Year'.
The Doha Metro project was nominated under 'Major Project of the Year - Over €500 Million' category and won the award after being shortlisted alongside the Confederation LRT Line in Canada, Delhi Metro Line 3 in India and Tehran Metro Line 6 in Iran.
The ITA awards are considered the highest award in the world in the field of tunnelling and underground projects, Qatar Rail has said in a press statement.