Judges
Anne Kathrine Kalager
Anne Kathrine Kalager has a Master's Degree in Geology from the University of Oslo. One of her main focus areas, is the preparation for the performance of the projects. Good knowledge of the ground-conditions is always an important key to success.
Since 1989, she has held key positions in the performance of several major railway projects. Tunnels have formed a significant part of all the projects, many of them located within urban areas. The majority of her tunnel-projects have been performed by the Norwegian Method of Tunneling by drill and blast excavation. The extension of the National Theatre station in downtown Oslo, is probably her most spectacular project, with huge technical challenges and limited access in combination with measurements to reduce the impact for the neighbours. The project was successfully finalized after a three year long construction period.
Since 2007, she has hold the position as Project Manager for the 20 km long twin-tube tunnel at the Follo Line project. The tunnels were successfully excavated by four hard-rock TBMs operating from one centrally located access-point. She has followed the project from the beginning, and it will be handed over in 2021
Rop Kiprono
Eng. Kiprono D. Rop is a Kenyan citizen with a Bachelor's degree in Civil and Structural Engineering and a Master degree in Project Planning and Management. He is currently a Principal Engineer at Athi Water Works Development Agency and a Secretary at the Tunnelling Association of Kenya. He has been actively involved in project formulation and concepts generation for funding, planning, designing, procurement and overall contract management.
Eng Kiprono has a wide range of interest that spans across several spectra associated with Civil Engineering and Project Management with a main bias in Contracts Administration and Project Management in Water Supply Infrastructure capital projects.
Over the past eleven years, his practice has mainly geared towards active Water Supply & Sanitation Design, Construction Supervision and Project Management for these works including supervision of Tunnelling works. Eng Kiprono Spearheaded the formation of the Tunnelling Association of Kenya and the incorporation of Kenya as an ITA Member nation.
Xavier Monin
With the Contractor Bouygues Travaux Publics (BYTP) since 2002, Xavier MONIN took part in various large international infrastructure projects as Design Manager (Highway 2000 in Jamaica (30Km, road & bridges/civil), Gautrain Railway in South Africa (85Km, 10Km bridges, 15Km tunnels (TBM/D&B), 10 stations), with periods in BYTP Paris H/O at the Design Office in 2005 and 2010-2013 as Tunnel Design Manager. Xavier joined Dragages Hong Kong Ltd (subsidiary of BYTP) in January 2014 and the Liantang Road Tunnel Project (twin 2 lanes 4.8Km tunnels / TBM + D&B + Mechanical excavation and Buildings/E&M) till completion in 2019 as Technical Manager.
He also led several Tenders in Hong Kong (IWMF Waste treatment facilities in 2017 (artificial island + process plant buildings), Central Kowloon Route - Central Road Tunnel in 2018 (awarded), and T2 Trunk Road sub-sea tunnel in 2019 (awarded).
He is currently Technical Manager on the Central Kowloon Route – Central Road Tunnel Project (2.8Km twin 3 lanes road tunnel underneath Kowloon, from Yau Ma Tei to Ma Tau Kok, mostly D&B excavation, 7 faults crossings, 7m dia. TBM pilot tunnel).
Chrysotemis Paraskevopulu
Chrysothemis is a Tunnel/Mining Engineer (MEng) with post-graduate studies (MSc) in Tunnelling from NTUA (GR).
In 2016, she completed her PhD which involved working in a joint Research Project between Queen's University and ETH Zurich. In 2017 she was appointed Assistant Professor at the University of Leeds (UK) where in 2019 she got her tenure (permanent chair) in Tunnelling and Rock Engineering. She has been also appointed as visiting Lecturer at Warwick University in the UK and Adjunct Professor at Queen's University in Canada. Her research deals with Underground Space, innovative design, resilient infrastructure, societal impact. She has published more than 40 papers in international journals and conferences.
She also works as an Independent Private Consultant and in the past as Tunnel Engineer. She is an active member in the British and Greek Tunnelling Society Young Members Group, ITACUS and ITA-CET. She is currently an EMBA candidate at Leeds University Business School.
When Chrysothemis is not working you will find her spending time with friends and family at her Eden a magical place in Southern Greece. In Greek, her first name (Chrysothemis) means Golden (Chryso) Natural Law - Justice (-Themis), in case you were wondering.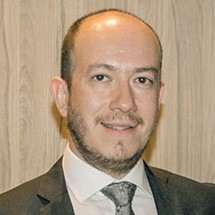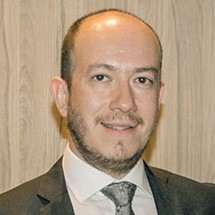 Giorgio Piaggio
Civil Engineer with 15 years of experience in underground projects for mining, energy, and infrastructure.
His experience includes design, construction and operation of tunnels constructed by several TBM and conventional method.
He holds a master's degree in Tunnelling by the École Polytechnique Fédérale de Lausanne in Switzerland and has served as President of the Chilean Tunnelling Committee, professor in universities and has published several papers in conferences and industry journals.
Currently is Engineering & Construction Manager for a large hydropower project with 75km of tunnels and two caverns.